The Zeros Kansas City Band – The Zeros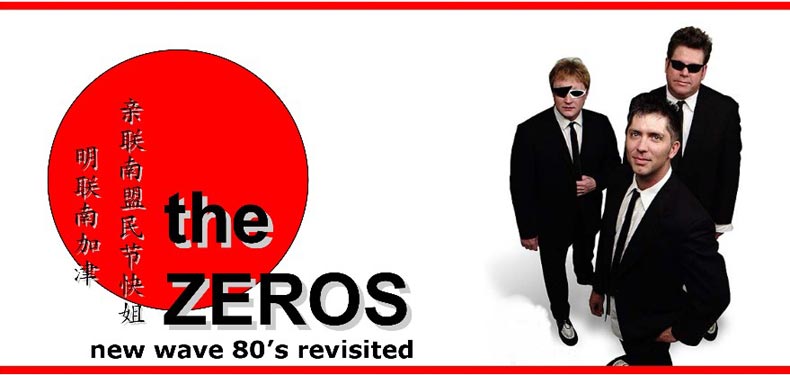 Contact Info
Phone :
913-764-7664
Web Site :
Member :
Silver
Band Bio

The Zeros Kansas City band are one of the hottest tributes to the 80's in the entire United States. Performing in all of the hottest clubs in town, as well as headlining some of Kansas City's biggest concerts and festivals including The Power and Light District.
The Zeros bring the 80's back in a unique way, they don't perform cheesy 80's hair band music like most of the 80's bands, they perform the "new wave" 80's music that constantly topped the charts during that generation.
The Zeros are Shawn Zero, drums, Brad Zero on Bass, and Larry Zero on guitar. Shawn and Brad were once members of the band Outhouse, a very successful rock band that toured with many arena bands including KISS among others. Outhouse had a deal with Mercury Records that fell through, and when they reformed they chose the name "The Zeros". Instead of giving fame and fortune another shot with another original band, the boys decided to form a band that played songs that they liked and that they grew up with. This turned out to be a great decision as The Zeros rose to the top with the 30 – 40 somethings who grew up during the 80's and remember it fondly as a time of reckless abandonment, drugs and alcohol, outrageous wardrobes and absolutely no consequences for their generation's actions as the economy was secure and America was on top for the last time. The Zeros capture the essence of the 80's perfectly during their show, complete with black eye liner, spiked mohawk hair, flying leaps with the guitars, decadent alcohol consumption, wild dancing women dressed in 80's garb on the stage, and just overall calamity……just like the 80's!
The Zeros Kansas City band are available for festivals, concerts, nightclubs, wedding receptions, corporate events, charity fundraisers, and private parties.