McFadden Brothers Kansas City Jazz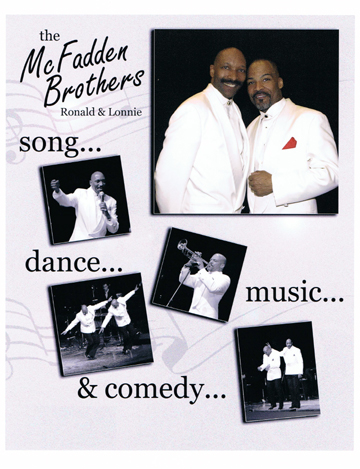 Contact Info
Web Site :
Member :
Silver
Band Bio
The McFadden Brothers
are a Kansas City tap dancing and musical performance sensation. The McFadden Brothers started performing as a duo after McFadden brother Lonnie left his band "Lonnie and The Band" in the 1980's. Comprised of brothers Lonnie McFadden (trumpet, tap dancing, vocals) and Ronald McFadden (saxophone, tap dancing and vocals) the McFadden Brothers are the sons of James McFadden, a sensational famous tap dancer. Father James taught the McFadden brothers how to entertain audiences at a very young age.
The McFadden Brothers have toured extensively around the country and have performed with many great artists. The McFadden Brothers performed as a part of the Wayne Newton show for over 2 years at The MGM Grand in Las Vegas.
The McFadden Brothers also performed with Sammy Davis Jr., Tony Orlando, The Count Basie Orchestra, Miles Davis and Wynton Marsalis just to name a few.
The McFadden Brothers have appeared on many local and national television programs throughout their career including "Incredible Sunday's".
The McFadden Brothers continue to appear at local Kansas City shows and also teach tap dancing. Brother Lonnie McFadden plays several shows per week with his own band.
The McFadden Brothers have wowed audiences all over the United States and even the entire world with their flashy and entertaining style of tap dancing and music.  The Kansas City jazz scene was forever changed when the McFadden Brothers took to the streets.  Lonnie, the consumate trumpet player, mastered Kansas City jazz and jazz bands early in his career and he carried it with him into the McFadden Brothers act.
You can book the McFadden Brothers band and tap dancing show for your next wedding reception, festival, concert, corporate event, convention, grand opening or anniversary party.  The brothers love to entertain any audience and any age group!