Liverpool Band Kansas City Beatles Tribute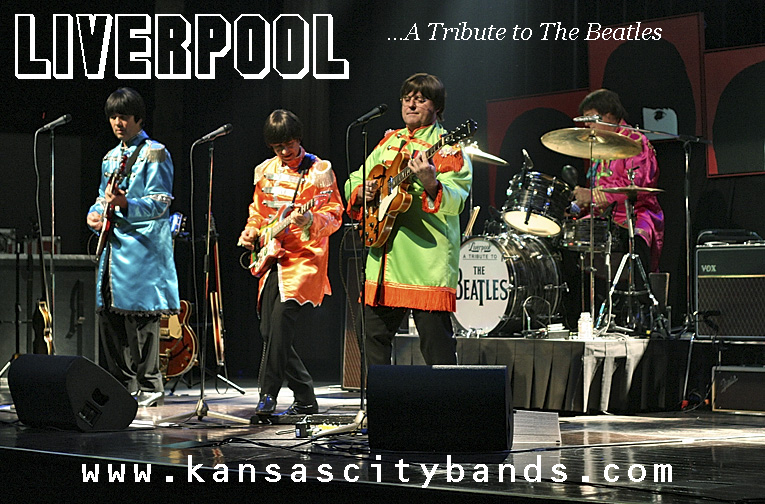 Contact Info
Web Site :
Member :
Silver
Band Bio
Liverpool band Kansas City Beatles Tribute Band
Liverpool has been making true believers out of Beatles fans nationwide for over 15 years.  Not only do these guys make music that sounds remarkably like the Beatles, from "Please Please Me" to "Let It Be", they painstakingly dress, talk and even move around onstage like The Beatles, making classic quotes from Beatles interviews and television appearances.
Liverpool Band Kansas City Beatles Tribute Band
What really drives Liverpool over the top of any other Beatles tribute band is their video accompaniment.  From the very beginning before the Fab 4 even hit the stage, the video plays the famous intro by Ed Sullivan – complete with the screaming girls in the audience – followed by an energetic and classic Beatles entrance.  The video continues to follow Liverpool through the entire performance showing clips of Beatles concerts, psychedelic images (for the Sgt. Pepper segment) and other great moments in Beatles History.
Liverpool also carries over $200,000 worth of authentic Beatles musical equipment with them to every show.  From McCartney's classic Rickenbacker basses to Harrison's Gretcsh guitars to Lennon's Sgt. Pepper collection, Liverpool pulls out all of the musical instruments and amplifiers that were made so famous during the Fab 4's career.
Liverpool band Kansas City consists of Larry Kips as John Lennon, Scott Duncan as Paul McCartney, Steve Davis as George Harrison and Gary Butler as Ringo.  The Liverpool band has been on the biggest stages in the country and they continue to impress audiences around the world.  There are Beatles tribute bands, and then there is Liverpool.
Liverpool Band Kansas City Beatles Tribute Band info provided by AES.