Knock Kneed Sally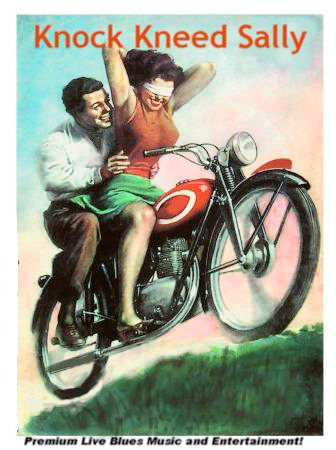 Contact Info
Web Site :
Member :
Silver
Band Bio

Knock Kneed Sally is definitely one of the true hard working blues bands in Kansas City. If it's rock solid kc blues you're in the market for, Knock Kneed Sally is as true as it gets. Knock Kneed Sally brings a great show to the audience and spurs fans to sing, dance and get wild. Cutting up with each other and the crowd, KKS are more than a great blues band; they are great entertainers as well.
The Kansas City blues band includes front man Scott White, explosive bassist Patricio "Pato" Lazen, brilliant blues guitarist Dr. Mike "Browndog" Homola, and high energy drummer Mitch Sutherland!
The band's repertoire encompasses a broad range of styles that include Blues, Swing, early Rock & Roll, Soul and even the occasional funk groove. Artists as diverse as Stevie Ray, The Allman Brothers, Lowell Fulson, Eric Clapton, Bill Withers, Sam Cooke, Fats Waller, and Albert King all coexist in the Knock Kneed Sally musical vernacular.
They are fearlessly uninhibited performers, a sure fire guarantee for a rippin' good time and premium live music! Check out there second CD Knock Kneed Sally Rides Again… and see why the buzz is for real whether in studio or live on stage at such locations at the Sharks (KC), Aftershock (KC), Infused (KC), Tonahills 3 of a Kind (Independence), The Brickyard (Olathe), Shorthorns (KC).Brody can be seen today performing all over the Kansas City area as well as special performances in Los Angeles, Chicago and other regional venues.