Dave Stephens Swing Orchestra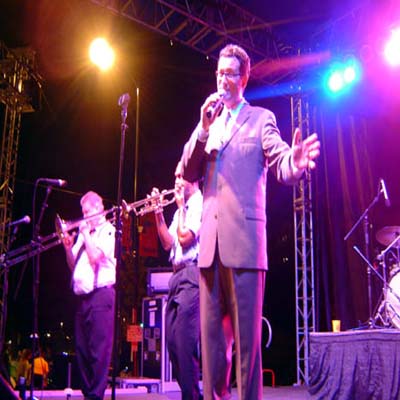 Band Bio

One of Kansas City's hardest working musicians, Dave Stephens was nominated for "Musician of the Year" and "Jazz Artist of the Year" at the Kansas City/Lawrence area music awards show. Dave Stephen's band is comprised of some of the area's most talented jazz musicians. The Dave Stephens Band's vast musical repertoire is primarily composed of their unique interpretations of the American Standards, although Dave Stephen's original music has been compared by the media to the likes of Cole Porter and the Gershwins.
The Dave Stephens Band has opened for such bands as the Count Basie Orchestra, Christian McBride, Royal Crown Review as well as appearances on HBO's Deadwood.
In addition to his busy playing schedule, STEPHENS spent many years hosting a weekly radio program in Kansas City featuring the same Big Band Swing Sound that can be heard live at his performances. Aside from their undeniable popularity in their hometown, The Dave Stephens Band has attracted rave reviews from such international celebrities as Marilyn Maye, Oleta Adams, Dave Matthews, and Katherine Whalen of the Squirrel Nut Zippers.