Kansas City Wedding Bands – Top KC Wedding Bands
February 9, 2012
9:04 am
By Bands For Hire Crew
Comments Off

on Kansas City Wedding Bands – Top KC Wedding Bands

Here at Bands For Hire Live! we have the best Kansas City wedding bands available. Choosing the right entertainment for your reception is very crucial and we would like to make your decision easy and successful. As we found out from a recent survey of couples who attended at least 3 weddings in 2011, they rated the following true about the wedding receptions that they attended:
1. Less than 10% remembered what they had to eat at the reception.
2. Less than 5% remembered what the flowers looked like.
3. 50% remembered the venue that the reception was held in.
4. 75% remembered the band that performed!!
As you can see, the most memorable item for your guests at your wedding reception is the band. We highly recommend the following Kansas City wedding bands based on their popularity among brides and grooms that we interviewed:
1. The KC All Stars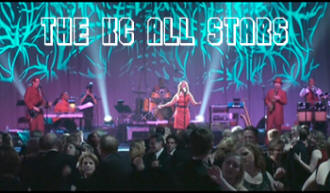 Voted "Best Band in Kansas City" by KMBC-TV four years in a row, The KC All Stars are one of the premier, top-shelf Kansas City wedding bands. Performing hits from every generation, The KC All Stars play something that all of your guests will recognize, from the young party rockers to the moms and pops, this band has something for everyone and doesn't leave anyone out! A fantastic line up includes female and male vocalists, brass instruments and a great stage show with dance steps and a $15,000 light show to match! The KC All Stars were voted unanimously the number 1 Kansas City wedding band.
2. The Wedding Crashers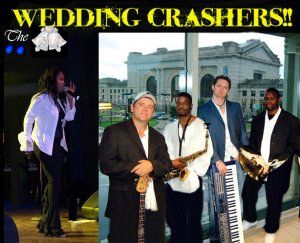 Look out! There's a new band in town Kansas City, and they are on fire! Since they formed in 2010, The Wedding Crashers have been rocking weddings by the masses and leaving the stage with smoke rolling off of it. The Wedding Crashers were built specifically for Kansas City weddings and each faction of the band is dedicated to making the best wedding reception party possible. The Wedding Crashers will DJ for you for dinner and cocktails, and also make any and all announcements that you need. This incredible Kansas City wedding band plays hits from every generation, from Aretha to Beyonce to Gaga and back to Madonna. The Wedding Crashers have both female and male vocalists, horns and an incredible stage show with dance steps and show stopping mashups. Young, fun, and full of energy, The Wedding Crashers are the newest sensation in Kansas City wedding bands. Affordable and professional, these guys can really pack a dance floor. Your guests will be complimenting you long after the big night on the incredible party that you put on, and The Wedding Crashers will be proud to be part of that!
Those are the top two Kansas City wedding bands, but don't wait around to book them, they are booking dates very quickly and you don't want to miss out!
Stay tuned for our articles on:
Kansas City Wedding Venues
Kansas City Wedding DJs
Kansas City Wedding Photographers
KC wedding bands
Thank you from Bands for Hire Live!